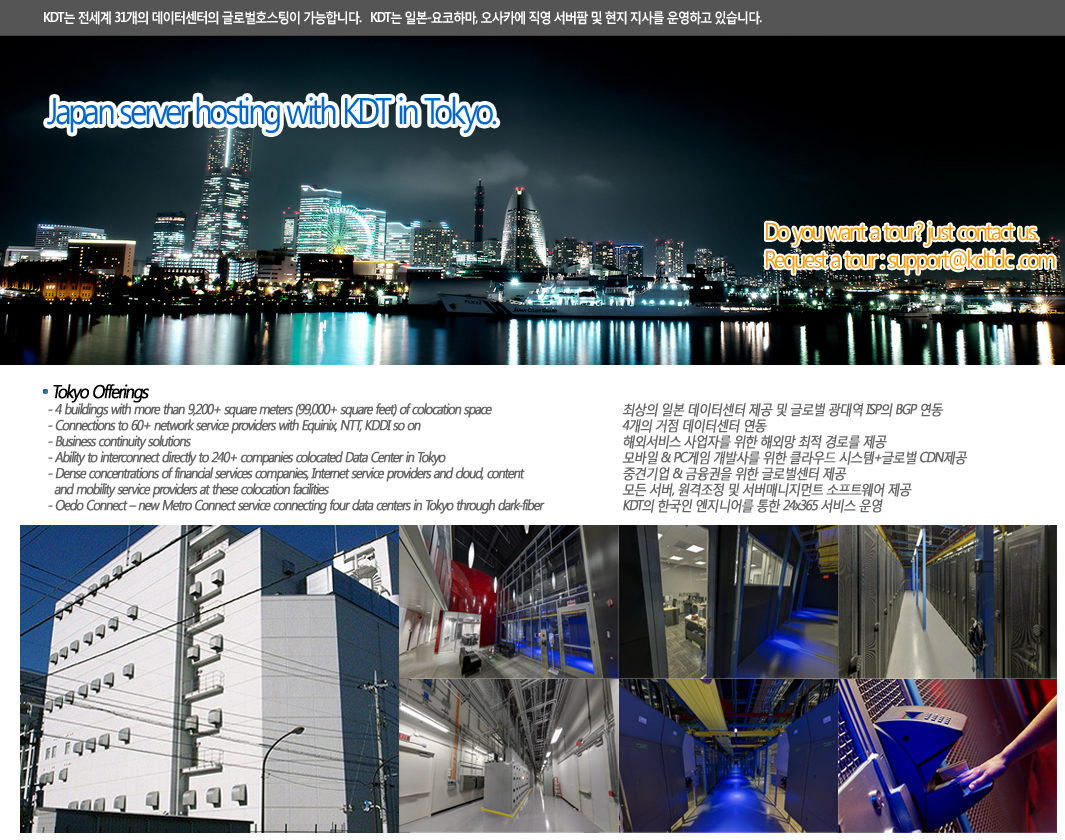 •상담문의) 국내호스팅:02-2062-7670,7680,8009 /글로벌호스팅:070-8856-6321,6326 /클라우드:070-8856-6320,6322,6327,8010,8387
•주의:불법(음란,저작권위반,불법게임)서비스,스팸,피싱,DDoS공격,해킹 등이 발생할 경우,직권해지 될수 있으니 약관을 참조하여 주시길 바랍니다.
해외서버는 해당 국가에서만의 속도와 트래픽을 보장하는 상품으로 현지에서의 서비스 사용을 권면합니다.
세팅시간:서버호스팅-서비스 신청/결제 후 0.5일소요(업무시간기준) / VPS-서비스 신청/결제 후 0.5일 소요(업무시간기준)
•Notice:
①We don't care of DDoS attacking,Spam(No support RDNS for Spam mail),Hacking,Porn,Copyright violations. If we have such as things,we can stop server/cancel a contract without notice and refund.
②Server setting time(Kor-time): AM9:00~PM5:00 Weekdays without holidays and weekend.(An order in 17:00~24:00 will be set nextday.)
③If you want to serve for international area or connect from that area, must choose currency with USD (when you pay only USD,we can support international line / when you pay currency with 원(₩), cann't connect to sever from international area.)
Facts about us
Try to visit our center!
Hosting Automation.
With KDT you can create, suspend, unsuspend and terminate accounts automatically. You can purchase more than 30 Provisioning modules for your service.
Payment with Paypal. card, cash
Enable Payment Processor. Create invoice and send to you monthly.
SoftBank,NTT,Gogent Golobal line transit
You can expect various global line and make your own pop with transit.
Order Summary
| Description | Price |
| --- | --- |
| VPS(Tokyo JPN):1vCore, RAM2G, HDD100G | $60 USD + $18 USD Setup Fee |
| Request. 당부 사항을 말씀해주세요. | Free |
| RAM 메모리 Basic | Free |
| IP 수량 Basic | Free |
| Bandwidth 회선대역폭 Basic | Free |
| HDD Basic | Free |
| Operating System Cent Os 6 - 32 Bit | Free |
| DBMS None 필요없음 | Free |
| Managed service No,I don't need 24hours ... | Free |
| V.A.T @ 10%   | $8 USD |
| Total Recurring: | |
Total Due Today::
$86 USD